or, dip. This is SO versatile! I've had it as soup, I've used it as dip, and I'm envisioning its savory loveliness over baked potatoes, enchiladas, on my black bean nachos, on southwestern inspired lasagnas, over pasta or rice...on my tofu scramble after my long runs on the weekend. oh, yum!!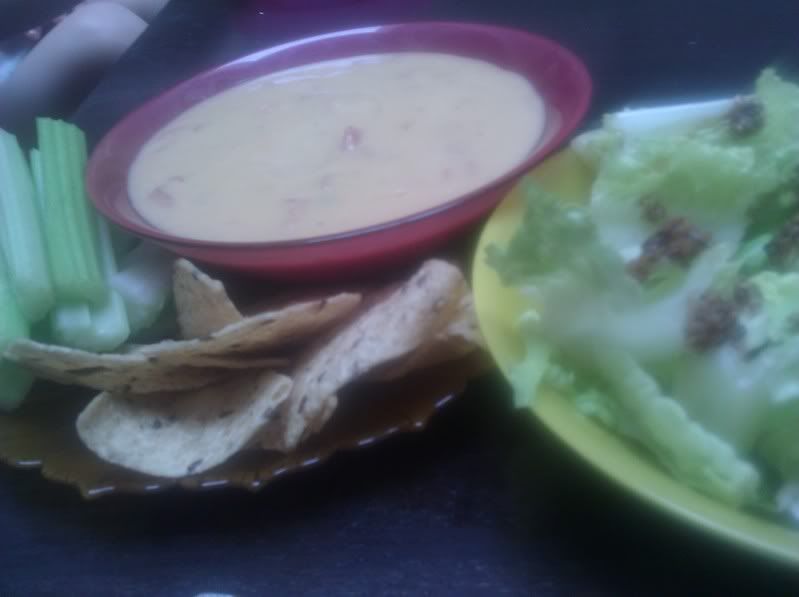 Spicy Queso Soup
1 large potato, peeled and diced
1 large carrot, peeled and chopped
1 large onion, peeled and chopped.
1c of vegan fat-free vegetable broth (you can use whatever you want, but this is what I used for the nutrition info)
12 oz Mori-Nu extra firm silken tofu
1/2c nutritional yeast (mine is mostly powdery, not big flakes)
2T lemon juice
1 1/4t salt (or to taste)
1t onion powder
1/4c garlic powder
1 15oz can diced tomatoes with green chilies (not the tiny Ro-tel can, the bigger one. if you use the tiny cans, use two. More is fine, less would be lame)
Here's the stuff I used. Find Mori-nu with other Asian cooking ingredients in the aisle. It's shelf-stable. I got the tomatoes at Aldi.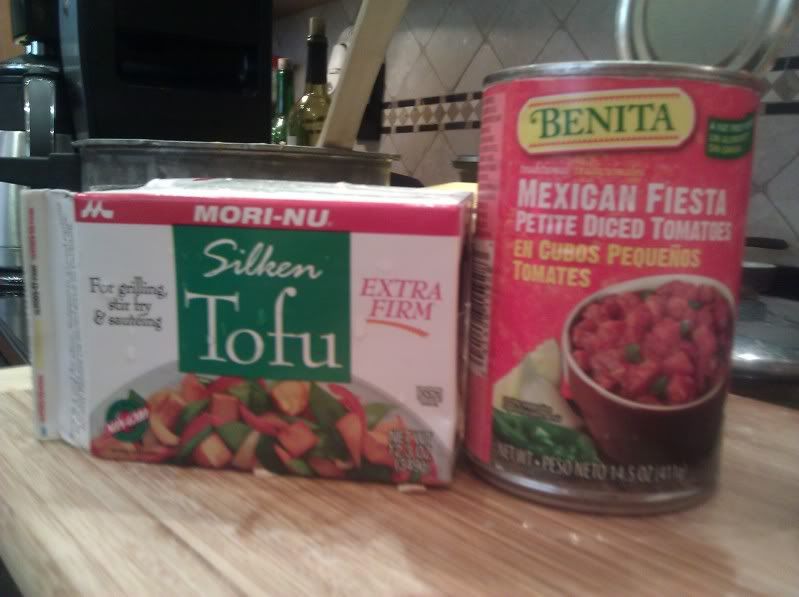 Add potato, carrot, onion to the broth in a pot. Bring to boil, reduce heat to low and cover. Cook until vegetables are tender, about 15m. Stir occasionally. In another bowl, combine the tofu, nutritional yeast, lemon juice, salt and spices. When the vegetables are done, add the tofu mixture to the pan. Remove from heat and use and immersion blender to blend until smooth. Alternatively, add the soup in batch to a blender or food processor. Return to pan and heat on low. Stir in entire contents of the canned tomatoes, un-drained. Heat for about 5 minutes on low, stirring. Add water to thin for soup as necessary. Serve. This is fine stored in the fridge, you may need to add a bit of water to thin it when you reheat. The flavors do improve over time, tho. mmmmm!
Nutrition Facts: 6 servings, 1 cup each
Weight Watchers Points Plus 4pp
Calories: 144
Fat: 1g
Carbs: 23g
Fiber: 4g
Calcium: 14
Cholesterol: 0
Protein: 12g
Enjoy!! so yummy!!